Yoga Teacher Training Courses
Yoga Teacher Certification
Authentic yoga practices of India
ALPHA OMEGA YOGA made just for Yoga Enthusiasts
Types of Yoga Taught by Us
ANCIENT TEACHINGS
Alpha Omega Yoga is based on the ancient teachings of yoga going back thousands of years.
ALL-ROUND GROWTH
You will grow spiritually, mentally and emotionally.
SENIOR INSTRUCTOR
Learn from someone who lives the teachings.
Release the Bad Toxins Out of the Body.
Yoga has gained popularity rapidly and almost 70% of the population has accepted it as a mode of good health. It has various styles like Ashtanga Yoga, Vinyasa Flow and Sun Salutation etc. All these styles serve their own purpose in terms of health and boosting the mind. I would like to discuss about Ashtanga Yoga today as this is one of my favourites. This asana is very useful in meditation, enhancing the body, spirit and mind. The person gets energetic with this yoga and learns to synchronize breathing. The Ashtanga yoga was founded by Sri K.Pattbhi Jois in old times. Basically, the term Ashtanga implies "eight limbs". And this is derived from Patanjali.
read more
Our Program
ALPHA OMEGA YOGA "Where Knowledge Transforms Into Inner Wisdom" Founded in 2006, Alpha-Omega Yoga Training is one of the top and most authentic yoga training programs in Texas. With nearly 400 graduates in the United States and abroad, our program is training tomorrow's leaders in the yoga community.
Our program is based on authentic yoga practices of India. Combining these ancient practices with modern teaching techniques, we provide you with a solid foundation for your personal and professional practice of Yoga.
Our core training encompasses Hatha Yoga, Vinyasa, Yin, Eight limb path and Kriya Yoga. Our practices of asana and pranayama incorporate the core principles of the Hatha Yoga Pradapika, the ancient text for yoga. Students are encouraged to develop their own teaching style, finding inner freedom and expression of their true selves. The yoga training program is designed to transform you physically, mentally and spiritually, providing you with the skills you need to go out into the world and share this wonderful practice with all.
Once your training is complete, Alpha-Omega provides you with a mentor, available to assist you as you navigate through your yoga journey. We also provide continuing education programs throughout the year, providing you with opportunities to continue deepening your practice. "Unfold your inner potential through Alpha Omega Yoga Teacher Training's" 
Alpha Omega's teacher training is awesome! Sheri is extremely knowledgeable and are able to provide a very hands-on and personal learning experience for every student. Yes, yoga changes us physically, but going through the 200hr teacher training changed me more emotionally and spiritually than I could have ever imagined. Thanks so much…and I'll see you soon in the 500hr!
Joanna Rains
My teacher training at Alpha Omega was one of the best experiences of my life. Not only did it provide a deeper understanding of yoga but as a living example of how LIVING yoga can benefit your life, Sheri as an instructor was invaluable. She brings a genuine desire for her students to see the truth of yoga so the spiritual contribution is there from the beginning. For me personally, of all of the life positive things that I am taking away from this program-I am most grateful that Sheri encouraged us to meditate. I started the program not realizing how cynical and jaded I had become-being introduced to the teachings of yoga and meditating has helped me start to overcome this and as a result, my relationships both personal and professional are growing again. Because the program allows us to actually visit Sheri's weekend classes where she teaches, I became a more confident teacher as I was able to actually witness her apply her teachings to her practice–such an important part of the training for me. I took the 9 month weekend training vs the fast track so at first I worried that I wouldn't stay connected during the weeks away but the homework assignments were about applying the principles on a daily basis so you can't help but stay connected. The teacher manual provided is detailed and practical; Sheri is open, approachable and available so again the connection is there. She is also extremely generous with her time and totally unselfish with it -budget wise, the program is very affordable. I am looking forward to my 300 hundred hour training at Alpha Omega next year and staying connected by attending the women and India retreats each year–I found my place and my teacher with this training and I'm grateful.
Cass Moffett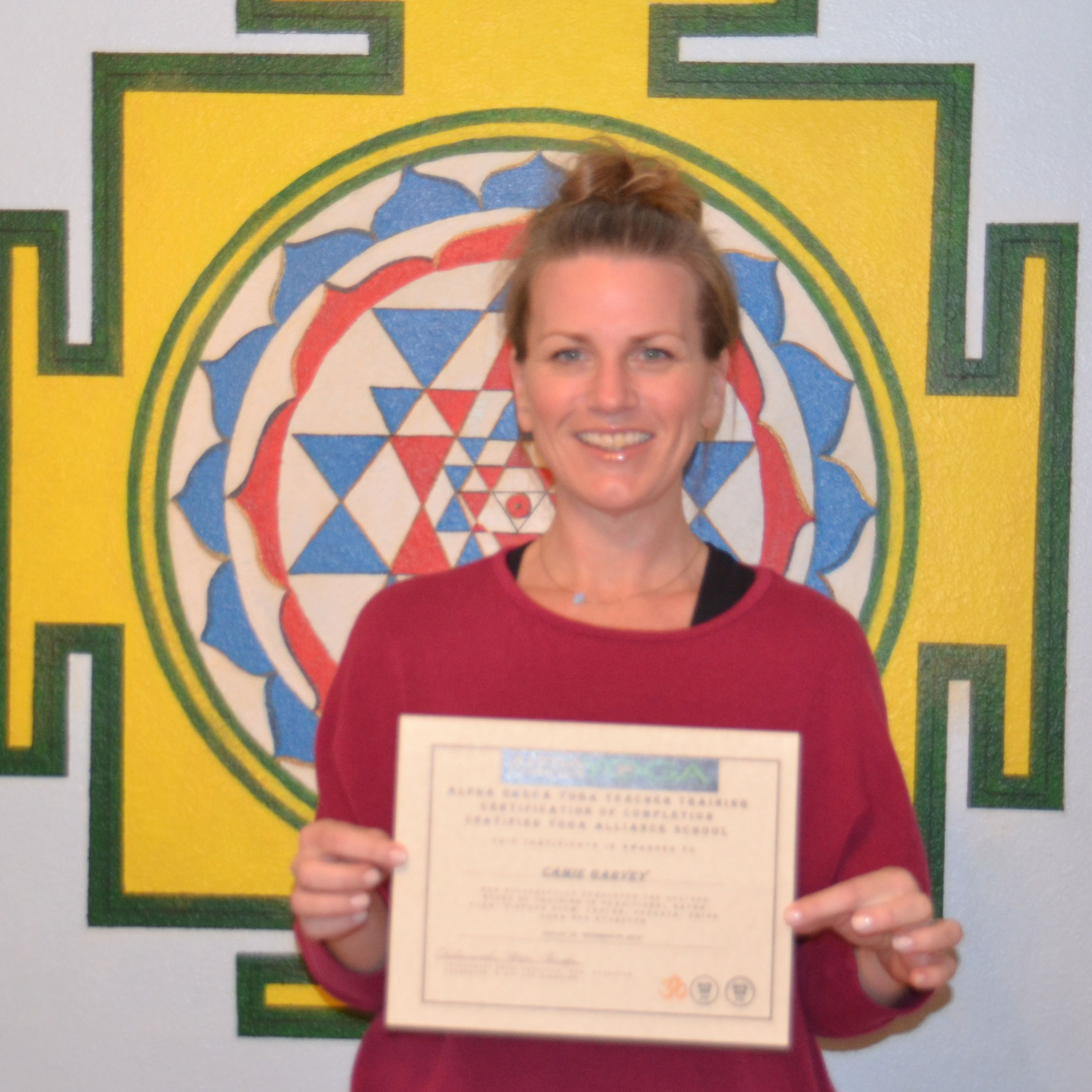 If you are wondering if Alpha Omega is for you, it is! I looked at so many places to train and Sheri knowledge and devotion to yoga is what attracted me. I've noticed how watered down yoga has become and so many different kinds have been introduced to the west but Sheri has kept the true intention of yoga in her teachings. She is devoted to this ancient practice and devoted to teaching her students to carry this tradition on in the purest ways. Aside from learning a great deal about the anatomy, asanas and meditation etc, I learned how to live my life in a better way. I believe I have become softer, kinder gentler to myself as well as others. When I would leave my training on Sundays to drive 3 hours home, I would have an overwhelming feeling of happiness, energy and desire to live the most honest , non harming, accepting, peaceful, devoted life that grew and grew every time I left. If you want this and want to pay it forward then you have been drawn to the right place. I love being a teacher but I love being a student most. I always want to learn and grow and Sheri set that desire within me. Go out in kindness and be an inspiration to others.
Camie Garvey
The training that I received at Alpha Omega yoga far exceeded my expectations. The passion that Sheri has for yoga and her students is so contagious. I came here to gain a better understanding of yoga but what I got was so much more. I found joy again and got my peace of mind back. I left feeling so knowledgeable, confident, and ready to share the gift of yoga with others. I'm so incredibly thankful and grateful for my teacher Sheri Cherokee. God has sent her to pass on this wonderful gift of knowledge to others through Alpha Omega Yoga Teacher Training. She offers a very hand on approach and is very patient and understands all the different learning styles of others. I'm so grateful for my experience here at Alpha Omega!
Nikki Richardson
The 500 hr Teacher Training by Sheri Cherokee and Alpha Omega Yoga has truly given me a deeper understanding of the entire 8 limb Yogic philosophy including meditation, Asanas and Ayurvedic healing techniques that allow me to get deeper into my own practice and spirituality, and of course be of better assistance to others while teaching yoga. Incorporating the yogic lifestyle has altered my life for the better and helps me help others de-stress, heal and get in tune with themselves. The positive feedback from those I teach and my deep connection with yoga make this course completely rewarding. Thank you Sheri!!!
Molly Tigue
The Alpha omega Yoga training was truly a great experience. Not only did I learn a lot about the philosophy of yoga but a lot about myself as well. Sheri's training and instruction is very precise, and easy to understand. Sheri cares a lot about her students and will help wherever she can to make sure you are comfortable with your training and have the confidence to be a great instructor.
Lisa Potts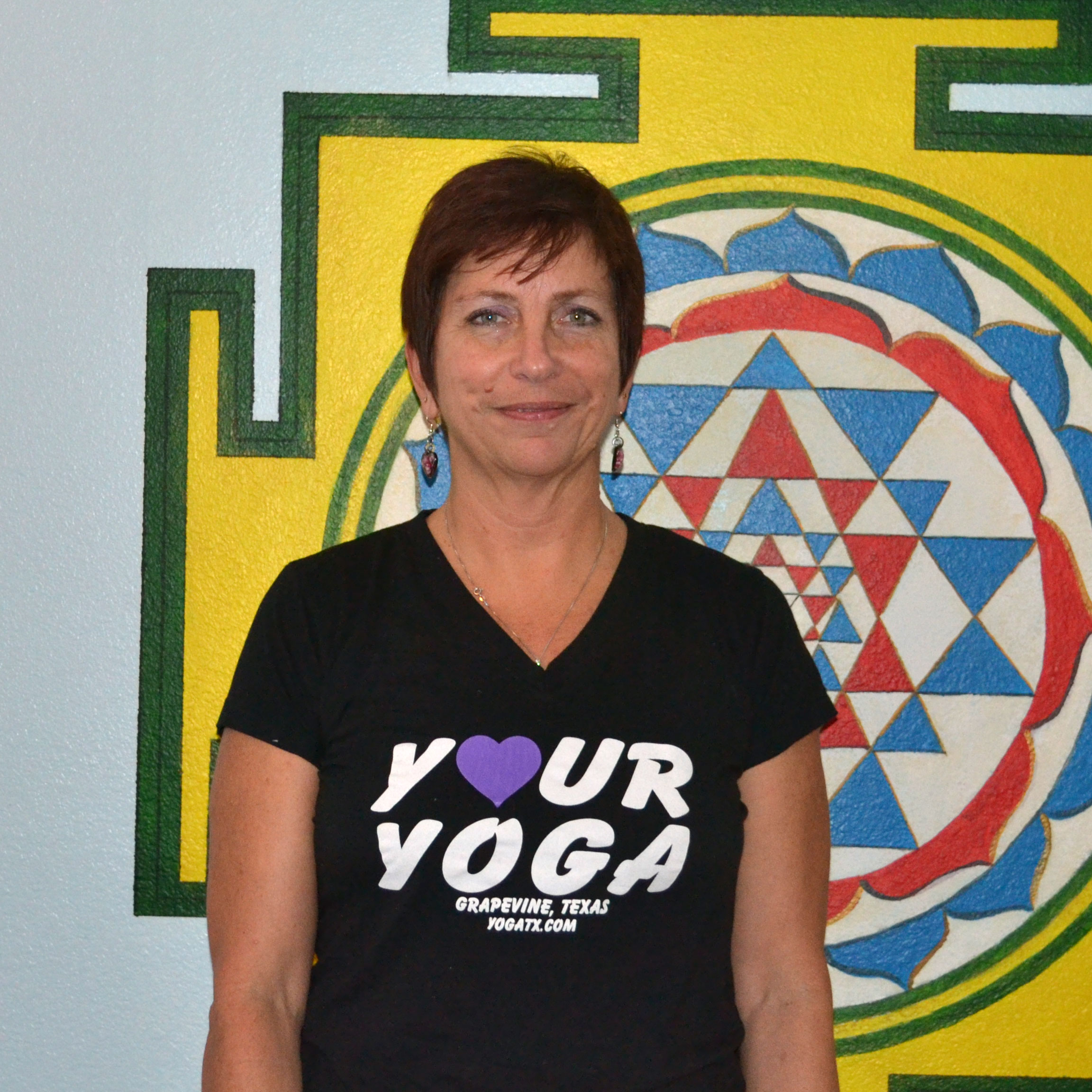 I'm sure everyone has heard testimonials about how yoga has changed their life. From the Beatles, on. So I could go on about how yoga has changed MY life. I discovered yoga, in my middle age, as a group exercise instructor. It helped my through a nasty divorce. It helped me become a better fitness instructor. And then I started leading the classes. But until I met Sheri, it was mostly exercise. I had been going to workshops, trainings, classes – everything I could find – to enhance my practice, and to become a better instructor. But until I met Sheri, I was still a fitness instructor. Sheri gave me the knowledge and understanding of the principles of yoga, and more importantly – Sheri gave me the tools to becoming what I can be. The journey that I began with her this year has started me on a whole new path. To being a great instructor. To recognizing the light in others. To finding the love and peace within myself. Namaste
Lisa Fenderson
Sheri's agenda is to make yoga available to everyone, not to promote a studio. She works very hard to make her teacher training affordable. Her 200hr teacher training showed me how that as a teacher, I am given a gift and to humble myself by sharing it with others. Through aryuveda and the eight limb path she taught me the beautiful lifestyle change that yoga has brought to my life. Her love and passion to teach us had touched my life forever. Can't wait to go back!
Kristen Vrabel
Offering both a strong grounding in the spiritual path of yoga as well as the instructor-led techniques for each pose, Sheri is able to guide and mentor students of all levels on their pathways toward becoming proficient yoga teachers. Through her generous spirit and deep experience, combined with well tested teaching materials, anatomy, breathing, poses, and the rich history of yoga, Sheri has developed a professional approach that is both cost and time effective in creating certified yoga instructors.
Ken Tichelbaut
I have always known that the yoga is a gift to the world, sensing that it is much like a family or warm light, accepting with kindness and patience. I knew that when the time came for me to begin a personal journey into yoga, that it would be life shaping. This began from the moment I walked into Alpha Omega Yoga. I met Chidanandi Sheri Cherokee in 2007 at an asana class in Dallas and practiced with her for a couple of years consistently. Even after I moved out of the city and carried on with my life as a professional cyclist, I never lost sight of what she taught me in those classes. The seed had already been planted. Six years later, with an interesting twist of circumstances, I was led me back to working with her in her 200 hour fast track program. I found it very fortunate to not only have come full circle back to where I began in yoga with her as a teacher, but also lucky to work one on one. The experiences there will be available in every moment of my being. The teachings at Alpha Omega have set the foundation for what has become a new existence in my life. The material we covered, the meditation, and studies were all remarkably enriching. This format is now carried on within my daily life. Since I have left, the teachings I learned will develop with daily practice and grow in every area. The way that I view the world has altered. I feel an ease and sense of calmness, patience and joy that I was less in tune with before. I begin each morning with practice and find it carries with me throughout the day. Absorbed in my inner spirit, thoughts, and physical health, then branching out into the relationships with others. I can only imagine what more is to come. It is an education that has become the most important I've experienced. What a gift to be able share this with others as well.
Jen Parcell
Alpha & Omega Yoga Instructor Training was one of the best choices I could have made in my life. Before enrolling, I had a strong interest in the practice yet mild understanding of Yoga and its philosophies. Sheri changed this from day one while making a vast amount of information comprehensive and fascinating. Every day was transformative and I am empowered and humbled by this experience as I know it is just the beginning of a blissful journey. Sheri goes beyond merely training Yoga instructors. Her dynamic curriculum thoroughly equips us to instruct and heal others while practicing the Yogic lifestyle so that we may be the change we would like to see in the world.
Jaquai Wade
When I first started the 500 hour Teacher training at Alpha Omega. I had no idea that as soon as I walked in I was immediately comfortable in hour 1. That makes a huge difference when you are learning and trying to grasp a deeper understanding, language and the depth of Yoga. I am so thankful for Sheri and how she nurtured my belief and gave resources and guidance in how Yoga and my faith harmonized. I now feel so very grounded as a yoga teacher. I respect every aspect of it and I can do so much more for the practitioners in my classes. It feels like Alpha Omega was a door that I opened and when I stepped in, growth was waiting for me on the inside, of me.
Many Blessings
Elena Jaxon